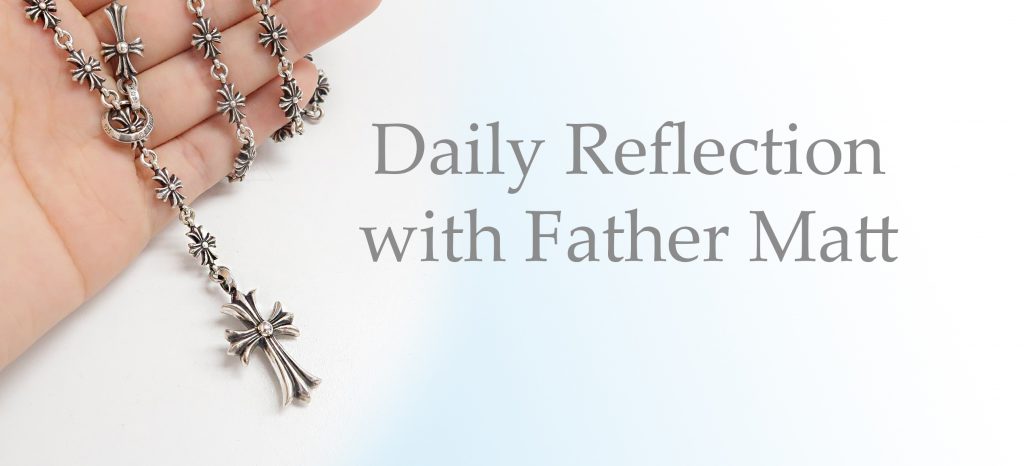 March 26, 2020
"Remember us, O Lord, as you favor your people."
These are the words of the Responsorial Psalm today. As we ask God our Father to remember us, may we remember the love He has pour out to us through His Son, Jesus Christ and through the Holy Spirit. Here are beautifully powerful words spoken by our Lord Jesus Christ to Mother Teresa:
It is true.

I stand at the door of your heart, day and night. Even when you are not listening, even when you doubt it it could be Me, I am there. I'll wait even the smallest sign of your response, even the least whispered invitation that will allow Me to enter.

And I want you to know that whenever you invite Me, I do come – always, without fail. Silence and unseen I come, but with infinite power and love, and bringing the many gifts of My Spirit. I come with My mercy, with My desire to forgive and heal you, and with a love for you beyond your comprehension – a love every bit as great as the love I have received from the Father I come, longing to console you and give you strength, to lift you up and bind all your wounds. I bring you My light, to dispel your darkness and all your doubts. I come with My power, that I might carry you and all your burdens; with My grace, to touch your heart and transform your life; and my peace I give to still your soul.

I know you through and through. I know everything about you. The very hairs of your head I have numbered. Nothing in your life is unimportant to Me. I have followed you through the years, and I have always loved you, even in your wanderings. I know everyone of your problems. I know your needs and your worries. And yes, I know all your sins. But I tell you again that I love you, not for what you have or haven't done. I love you for you, for the beauty and dignity My Father gave you by creating you in his own image. It is a dignity you have often forgotten, a beauty you have tarnished by sin. But I love you as you are, and I have shared My Blood to win you back. If you only ask Me with faith, My grace will touch all that needs changing in your life, and I will give you the strength to free yourself from sin and all its destructive power.

I know what is in your heart; I know your loneliness and all your hearts: the rejections, the judgments, the humiliations. I carried it all before you. And I carried it all for you, so that you might share My strength and victory. I know especially your need for love – how you are thirsting to be loved and cherished. But how often have you thirsted in vain by seeking that love selfishly, striving to fill the emptiness inside you with passionate pleasures – with the even greater emptiness of sin? Do you thirst for love? " Come to Me all you who thirst…" (John 7:37). I will satisfy you and fill you. Do you thirst to be cherished? I cherish you more than you can imagine – to the point of dying on the cross for you.

I thirst for you. That is the only way to even begin to describe My love for you. I thirst for you. I thirst to love you and to be loved by you; that is how precious you are to Me. I thirst for you. Come to Me, and I will fill your heart and heal your wounds. I will make you a new creation, and give you peace, even in all your trials. I thirst for you. You must never doubt My mercy, My acceptance of you, My desire to forgive, My longing to bless you and live My life in you. I thirst for you. If you feel unimportant in the eyes of the world, that matters not at all to me. For Me, there is no one any more important in the entire world than you. I thirst for you. Open to Me. Come to Me. Thirst for Me. Give Me your life, and I will prove to you how important you are to My Heart.

Don't you realize that My Father already has a perfect plan to transform your life, beginning from this moment? Trust in Me. Ask Me every day to enter and take charge of your life; and I will. I promise you before My Father in heaven that I will work miracles in your life. Why would I do this? Because I thirst for you. All I ask of you is that you entrust yourself completely to Me. I will do all the rest.

Even now I behold the place My Father has prepared for you in My Kingdom. Remember that you are a pilgrim in this life, on a journey home. Sin can never satisfy you, or bring the peace you seek. All that you have sought outside of Me has only left you more empty, so do not cling to the things of this life. Above all, do not run from Me when you fall. Come to Me without delay. When you give Me your sins, you give Me the joy of being your Savior. There is nothing I cannot forgive and heal. So come now, and unburden your soul.

No matter how far you may wander, no matter how often you forget Me, no matter how many crosses you may bear in this life; there is one thing I want you to always remember, one thing that will never change: I thirst for you—just as you are. You don't need to change to believe in My love, for it will be your belief in My love that will change you. You forget Me, and yet I am seeking you every moment of the day—standing at the door of your heart and knocking. Do you find this hard to believe? Then look again at the Cross, look at My Heart that was pierced for you. Have you not understood My Cross? Then listen again to the words I spoke there, for they tell you clearly why I endured all this for you: "I thirst…" (John 19:28). Yes, I thirst for you.

All of your life I've been looking for your love. I have never stopped seeking to love you and be loved by you. You have tried many other things in your search for happiness; why not try opening your heart to Me, right now, more than you ever have before. And whenever you do open the door of your heart, whenever you come close enough, you will hear Me say to you again and again, not in mere human words but in your spirit: "No matter what you have done, I love you for your own sake. So, come to Me with your misery and your sins, with your troubles and needs, and with all your longing to be loved because I stand at the door of your heart and knock. Open up to Me, for I thirst for you.
March 25, 2020
I probably watch too much television, and so I've seen a commercial from Discover in which there are clips from multiple shows and movies of people saying "yes." While "no" may be one of the words children like saying the most, "yes" can be an incredibly powerful, and today's feast of the Annunciation is a display of how powerful a simple and humble yes can be. The archangel Gabriel approaches many with a laudatory greeting and then announces news of great joy: through the power of the Holy Spirit, she is to bear in her womb the Son of God!
While God had prepared Mary for this from her very first moment, perhaps Mary had not anticipated this. Maybe it wasn't a part of her plans for life. However, saying yes to the Father was central to her life, and so at a moment like this, when something unexpected occurs, she gives God an unqualified yes. She even amplifies it: "Behold, the handmaid of the Lord, be it done to me according to your word."
With this unrestricted yes, everything changes. Because Mary cooperates with God's grace, with God's plan, the Son of God enters into the world. God's presence because physically real in our world. While we won't bear the Son of God in the same way Mary did, we are still able to bring Jesus Christ, the Son of God, into the world. Every time we say yes to God and His plan, in a sense Christ is brought into the world. Every time we cooperate with God's grace, in a sense the Son of God is made present in the world. May we imitate Mary's yes to God and imitate how she bore Jesus Christ in her heart.
We should also remember this day as the day in which the Word became flesh and dwelt among us. God is not distant. Instead, He has taken on human flesh and human nature; the Son of God has experienced every aspect of human life—apart from sin—and so He knows our suffering in a personal way. In this time of crisis, we are not alone; the Son of God is with us still, so let's turn to Him and His mother all the more fervently and bring them our concerns.
Angelus
V. The Angel of the Lord declared unto Mary.
R. And she conceived by the Holy Spirit.
Hail Mary, full of grace, the Lord is with thee. Blessed art thou among women, and blessed is the fruit of thy womb, Jesus. Holy Mary, Mother of God, pray for us sinner, now and at the hour of our death. Amen.
V. Behold, the handmaid of the Lord.
R. Be it done to me according to thy word.
Hail Mary…
V. And the Word was made flesh.
R. And dwelt among us.
Hail Mary…
V. Pray for us, O holy Mother of God
R. That we may be made worthy of the promises of Christ.
Let us pray. Pour forth, we beseech Thee, O Lord, Thy grace into our hearts; that we, to whom the Incarnation of Christ, Thy Son, was made known by the message of an angel, may be His Passion and Cross be brought to the glory of His resurrection. Through the same Christ, our Lord. Amen.
March 24, 2020
"Do you want to be well?"
These are the words Jesus asks the sick man of 38 years laying by the pool called Bethesda in our Gospel reading today (John 5:1-16). "Do you want to be well?" It almost seems like a mocking question. Of course! Who wouldn't want to be well, to be healed? Yet the sick man's response is telling: "Sir, I have no one to put me into the pool when the water is stirred up; while I am on my way, someone else gets down there before me." His answer seems legitimate, but maybe there's something deeper going on here. Perhaps this sick man is making a lame, sorry excuse. Perhaps he has become accustomed to his lifestyle and prefers not to change, knowing that a new way of living will bring a new set of challenges and difficulties, so it's easier to remain where he is.
Jesus poses the same question to us: "Do you want to be well? Do you want to be healed?" Bishop Robert Barron makes the point that Jesus seeks physical and spiritual healing. He states, "Much of Jesus' ministry consisted in teaching people how to see (the kingdom of God), how to hear (the voice of the Spirit), how to walk (thereby overcoming the paralysis of the heart), how to be free of themselves so as to discover God." All of this is what Jesus wants for our lives, and so He asks us, "Do you want to be well?" Again, the answer may seem to be an obvious "yes," but again, don't we often make similar excuses? "I'll get around to it tomorrow," "There are so many other things going on in my life right now," "I just don't have time for it." Like the sick man, we too sometimes provide lame and sorry excuses from blocking the healing power of God into our lives. This may be because we are afraid of how Christ may change our lives; we may be comfortable where we are and don't want radical transformation in our lives.
This is where we are invited to trust Jesus Christ more deeply: trust that the transformation He will bring into our lives will make us well; trust that His transformation of us will make us lives better (although that doesn't mean easier). May we not wait 38 years as the sick man in the Gospel passage did. Instead, may today be the day we commit ourselves more fully to Christ and allow Him to make us well.
Prayer for the Seven Gifts of the Holy Spirit by St. Bonaventure
Lord Jesus, as God's Spirit came down and rested upon you, may the same Spirit rest upon us, bestowing his sevenfold gifts. First, grant us the gift of understanding, by which your precepts may enlighten our minds. Second, grant us counsel, by which we may follow in your footsteps on the path of righteousness. Third, grant us courage, by which we may ward off the enemy's attacks. Fourth, grant us knowledge, by which we can distinguish good from evil. Fifth, grant us piety, by which we may acquire compassionate hearts. Sixth, grant us fear of the Lord, by which we may draw back from evil and submit to what is good. Seventh, grant us wisdom, that we may taste fully the life-giving sweetness of your love. Amen.
March 22, 2020
As many of you noticed, there were audio issues with the video of the Mass from this morning, so I'm posting my homily. Because I didn't have a written text, this is the best reconstruction I can provide
"It is so that the works of God might be made visible through him."
When encountering the man born blind, Jesus's disciple ask Him the cause of the man's blindness. Jesus's response seems like a non-answer: "Neither he nor his parents sinned; it is so that the works of God might be made visible through him." The disciples essentially ask a question about suffering. Perhaps Jesus doesn't answer the question directly, but He nevertheless confronts the issue. It is so that the works of God might be made visible through him. We may be tempted to think that the work of God which Jesus is referring to is giving sight to the man born blind. Without a doubt, that is the work of God revealed, but the greater work of God revealed in the man born blind is that he is given spiritual sight and vision, leading him to profess faith in and worship Jesus as the Son of Man, calling Jesus as Lord. Bringing about faith and converted the man born blind was the work of God revealed in him.
"Not as man sees does God see," so God tells Samuel in our first reading about the anointing of David. This principle is important to keep in mind when pondering the works of God. St. Thomas Aquinas states that the greatest of the works of God is not the creating and fashioning of the universe, not giving sight to the blind, not healing the sick, not driving out demons, not raising Lazarus from the dead. No, the greatest of the works of God is the conversion of sinners; bringing people to faith. We see this greatest of the works of God at play in the Gospel of John as Jesus gives sight—physical and spiritual—to the man born blind, bringing him to faith.
In this difficult and uncertain time, the words of Jesus remain true: "It is so that the works of God might be made visible through him/us." What are the works of God right now? Busy and hectic families are now forced to spend more time with each, hopefully deepening their relationships with each other. Through this crisis, God is executing judgment on the idols and false gods of our day: sports; finances, in which we often place our security; a life of comfort, which sometimes makes us apathetic to our mission as disciples of Christ. Through this crisis, God is helping us to reprioritize our lives. In this time, Jesus is giving us sight, ending our blindness to the need of others and our blindness to God's invitation in our lives. Lastly, what is the work of God revealed in us now? Our Lord is bringing us to greater faith and converting us more toward Him: trusting in Him more deeply, surrendering to Him more completely, and committing our lives more totally to Him.
This isn't the Lent we've wanted or ask for, but it is the Lent we've been given, and perhaps even the Lent we need. It is in this time that the works of God are revealed in us as the Lord elicits greater faith in us. Jesus says in the gospel reading, "I am the light of the world." Even in the darkness of our current situation, the light of Jesus Christ shines in the world. He is victorious over our greatest enemies—sin and death—and His light continues to shine in our lives, giving us spiritual sight to our blindness. May we allow His light to shine in and through us so that the works of God may be revealed in us.
March 21, 2020
Dear Friends,
During this difficult time without public Mass being offered, I invite all of you, but especially my parishioners of St. Mary of the Snows and Resurrection, to join me in the celebration of Holy Mass on the Fourth Sunday of Lent, March 22nd at 10:30am. While we cannot celebrate Mass together in person, you can join me for Mass on YouTube channels of St. Mary of the Snows and Resurrection Parish Lexington. Because you cannot be present physically to receive the Body, Blood, Soul, and Divinity of our Lord Jesus Christ in the Blessed Sacrament, I invite you to make a Spiritual Communion during Mass. Below is a prayer for making a Spiritual Communion, and it will be available under the description on the video.
Mass will not be live, but because God is beyond the confines of time, we will nevertheless be united as I offer Mass for you. Please click on the link below to view Mass at 10:30am on Sunday, March 22.
I look forward to being together again with you soon. God bless you and your families!
Act of Spiritual Communion
My Jesus, I believe that You are present in the Most Blessed Sacrament. I love You above all things and I desire to receive You into my soul. Since I cannot now receive You sacramentally, come at least spiritually into my heart. I embrace You as if You were already there and unite myself wholly to You. Never permit me to be separated from You. Amen.
https://www.youtube.com/channel/UC7uLQ_6RC4EMZB1Oezx6Zmw…
https://www.youtube.com/channel/UCqDf15pSy4SgQeOz6KDpsgg
March 20, 2020
In today's Gospel reading from the twelfth chapter of St. Mark's gospel, Jesus responds to the scribe's question: "Which is the first of all the commandments?" By now, we are all familiar with His answer. Jesus references Deuteronomy 6:4 when giving the first: "Hear, O Israel! The Lord our God is Lord alone! You shall love the Lord your God with all your heart, with all your soul, with all your mind, and with all your strength." Jesus then turns to Leviticus 19:18 for the second: "You shall love your neighbor as yourself." Love God and love your neighbor. These are the greatest of all the commandments.
Nevertheless, there is a small phrase within Jesus's response we may gloss over: "Hear, O Isarel!" Even before being told to love, we are told to listen! It is easy to go ahead with our own plans and goals; it's simple to do things our own way, thinking we know what is best. Sometimes we march forward without stopping to ask God what His plans for us are, or perhaps we have drowned out the voice of God in an endless stream of cacophonous noise. Instead, we need to first listen: "Hear, O Israel!"
Taking time to listen to God and His commands helps us understand and realize that it is not we who first reach out to God, but instead, it is God who always initiates and invites first. We are called to love because God has loved us first. Loving God and neighbor is our response to God's love for us.
The circumstances of this health crisis have forced us to live a slower paced life; our lives are thrown out of whack. As we spend more time at home, there may be the temptation to watch more TV or spend more time on social media (ironically, as you probably read this on social media); there may be the temptation to be lazier than usual. However, we're perhaps given extra time to listen to God: in prayer, in Scripture, in the writings of the saints. During this time of grace, God invites us into deeper intimacy with Him: "Hear, O Israel!"
Act of Love
O my God, I love You above all things with my whole heart and soul, because You are all good and worthy of all my love. I love my neighbor as myself for the love of You. I forgive all who injured me, and ask pardon for all whom I have injured. Amen.
March 19, 2020
Today we celebrate the great Solemnity of St. Joseph, husband of Mary, foster-father of Jesus, and guardian of the Church. After the birth of Jesus and after the visit of the Magi, Joseph is told by God to take his family and flee to Egypt in order to escape from the tyrannical rage of Herod, which is exactly what Joseph did. They were forced to leave what was comfortable, what was known and enter into the unknown. Joseph, throughout all of this, protected Jesus and Mary from danger, attacks, and threats.
In this health crisis, we all have been forced to leave behind what is comfortable and known; we've been forced to leave behind everyday life as usual. We've entered into a time of uncertainty and the unknown. This can bring about fear, anxiety. It can bring about the worst in us: selfishness, anger, division. These are only a sampling of the dangers we face in this time. But just as St. Joseph protected the Holy Family while fleeing to Egypt, so St. Joseph—Guardian of the Church—continues to protect us. Let's turn to St. Joseph, asking him to intercede for us: for an end to his health crisis, for the sick and quarantined, and for protection against the assaults of fear, anxiety, and sin.
Litany of St. Joseph:
Lord, have mercy.
Christ, have mercy.
Lord, have mercy.
Christ, hear us.
Christ, graciously hear us.
God, the Father of heaven, have mercy on us.
God, the Son, Redeemer of the world, have mercy on us.
God, the Holy Spirit, have mercy on us.
Holy Trinity, one God, have mercy on us.
(Respond with "pray for us" after each of the following invocations)
Holy Mary, pray for us,
St. Joseph…
Renowned offspring of David…
Light of patriarchs…
Spouse of the Mother of God…
Chaste guardian of the Virgin…
Foster-father of the Son of God…
Diligent protector of Christ…
Head of the holy family…
Joseph most just…
Joseph most chaste…
Joseph most prudent…
Joseph most brave…
Joseph most obedient…
Joseph most faithful…
Mirror of patience…
Lover of poverty…
Model of artisans…
Glory of home life…
Guardians of virgins…
Pillar of families…
Solace of the wretched…
Hope of the sick…
Patron of the dying…
Terror of demons…
Protector of the holy Church…
Lamb of God, you take away the sins of the world, spare us, O Lord.
Lamb of God, you take away the sins of the world, graciously hear us, O Lord.
Lamb of God, you take away the sins of the world, have mercy on us.
V. He made him lord of His House
R. And ruler of all His possessions
Let us pray. O God, who in your unspeakable providence deigned to choose blessed Joseph to be the spouse of your own most holy Mother: grant, we beseech you, that we may deserve to have him as our intercessor in heaven, whom we venerate on earth as our protector: who lives and reigns world without end. Amen.
Memorare of Saint Joseph
Remember, most pure spouse of Mary, ever Virgin, my loving protector, Saint Joseph, that no one ever had recourse to your protection or asked your aid without obtaining relief. Confiding, therefore, in your goodness, I come before you and humbly implore you. Despise not my petitions, Foster-father of the Redeemer, but graciously receive them. Amen.